Dr. Young is now accepting applications to be a member of the SPHA AAHE Case Study Team at the 2012 AAHPHERD National Convention in Boston. The conference will be held March 13th-17th, but applications are due as soon as possible.
2011 Winning Team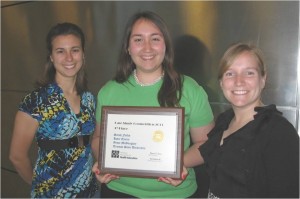 Qualifications to Apply:
-SPHA member in good standing
-Junior-Senior status (to be an alternate you may be a sophomore)
-Minimum GPA of 3.25
-Completed or currently in HLTH 366, 410/440
-Great public speaking skills
-Creativity
-Ability to work under pressure and with a team
Application Should Include:
-Current Resume
-In <200 words:
Explain the assets you would bring to the team

Your plans to assist in the fundraising needed for the trip
Applications should be submitted in hard copy to Dr. Young, PB 226-C.