SPHA General Meeting
October 8, 2014
President- Katie Reysack
Everything is ordered!
Come get name tags at end of meeting
Interested in attending MOAPHERD?
Nominations next meeting- Oct. 22nd
What does the President do??
Vice President – Ashley Kuykendall
ATSU Research Conference- November 1
Register on the ATSU website
New Member Initiation- November 5th
Treasurer- Erika Holliday
Budget explanation: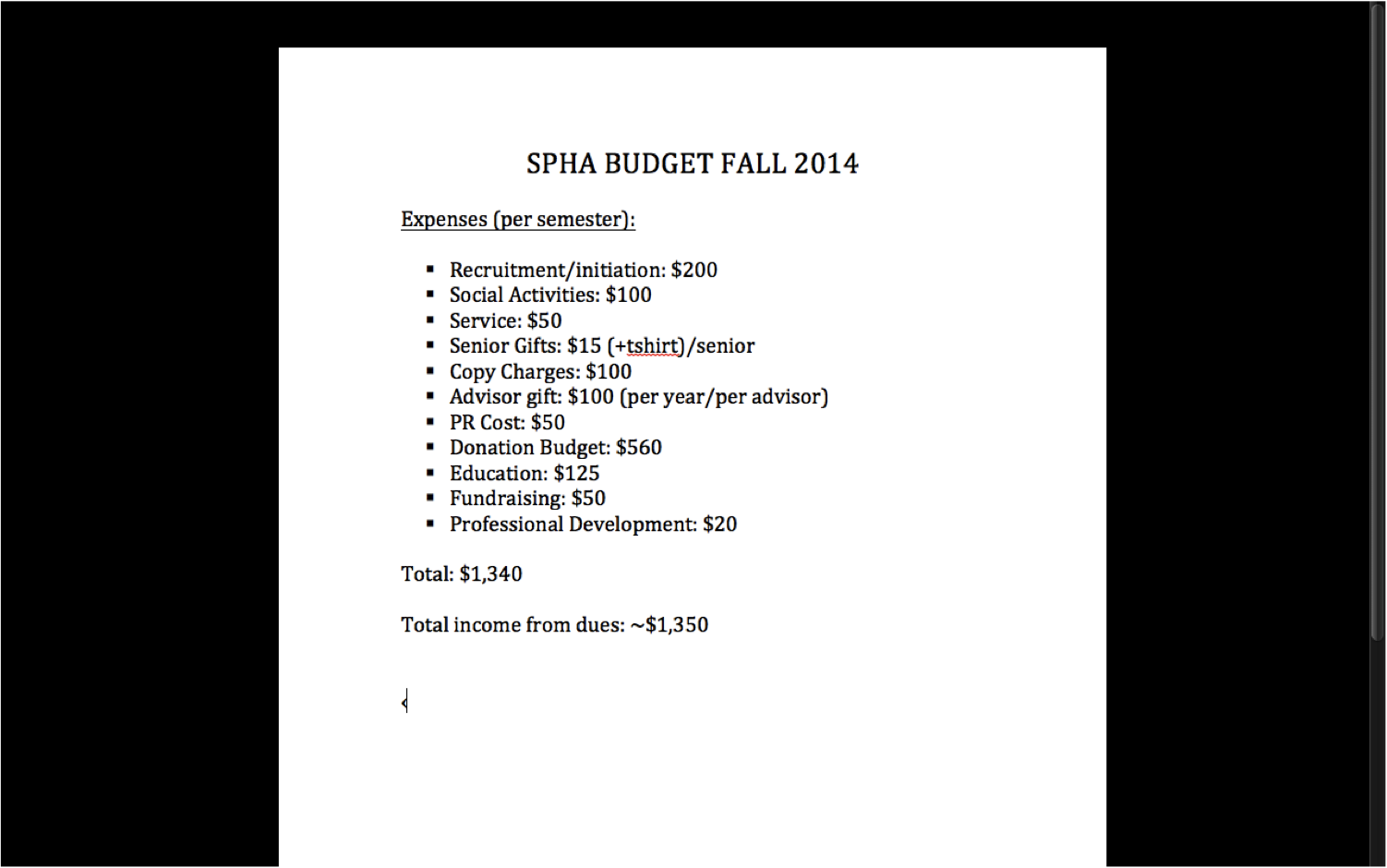 P.S. Talk to me if you're interested in being the next SPHA treasurer!
Secretary- Megan Sullivan
Hours doc should be posted on the website soon!!
New members–don't forget to submit your hours from recruitment!
Don't forget that the member with the most amount of hours gets a prize!
Service- Liz Chau
NEMO Heart and Sole Walk
When: October 25
Where: Kirksville High School Track
Roles and tentative times:

Setup – 7:30am
Buddies – 8:30am
Cleanup – 1:00pm

Will send more communication
Buddy Packs – Interest?
Interested in the Service Chair position? Contact me!
Education- Lauren Maag
Puppet Pals will be starting up soon. Please come talk to me if you are interested!

Puppet Pals is a program that visits surrounding schools and teaches kids about different health topics.

Smoke Free Friday is on October 10th. The signup sheet will go out tonight
Professional Development- Katie Larabee and Carly Scott
THANKS TO ALL WHO CAME TO THE CAREER SPEAKER TODAY!
—Creighton University OT/PT Info Session—
When: Wed, October 15, 9am-12pm
Where: SUB 3201
(Drop by to talk with Admission Representatives from Creighton University about their Physical Therapy, Occupational Therapy, and Pharmacy programs.)
Interested in becoming the next Professional Development Chair?
Contact Katie or Carly: kml8875 / cms2238
Social Chairs- Bonnie Kempker & Alex Connor
Haunted corn maze:
Public Relations- Sara McVety
Come help set up the trophy case on Tuesday the 14th at 3:30pm for an education hour!
The theme is breast cancer awareness
Fundraising- Nemo & Chelsea Little
Quarter Zip sign up has closed October 5th
The order was submitted on October 6th
We are expecting the Quarter Zips back the week after homecoming!!!!
MOPIP – Sarah Strickler
New Proposal date for program funding through MOPIP
Discussed about funding for MOM
Webmaster- Katie Larabee
Working on getting permission to edit the SPHA website.
Will have all of the minutes from this semester up ASAP!
Dr. Clark
-no report
Dr. Wodika
World Polio Day in October
Visit TruYo from 5-9pm on October 21st – 15% of their proceeds go towards the quest to end Polio!
Sustainability Day
http://globalissues.truman.edu/about/fall-2014/
Presentation from Marcin Jakubowski from 4-5pm in BH176 on Open Source Ecology, "Creating Life-Sized LEGO's for a Global Village"
Have a great Homecoming weekend and upcoming fall break!